Dessert Recipes
Chocolate Toffee Bars
Summary
What You Need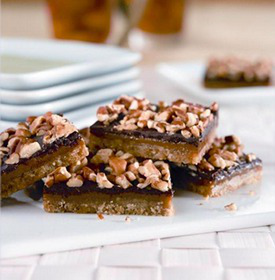 Instructions
Preheat oven to 350 degrees F. Lightly spray a 13- x 9- x 2-inch baking pan with vegetable cooking spray.
Beat 1/4 cup butter and 1/2 cup SPLENDA® Brown Sugar Blend at medium speed with an electric mixer until blended. Add egg yolk beating until blended. Add flour and salt; beat on low speed until blended. Press mixture into bottom of prepared pan.
Bake crust 12 to 14 minutes or until golden. Cool in pan on a wire rack.
Toffee Directions: COMBINE 1/4 cup butter, SPLENDA® Brown Sugar Blend, corn syrup, evaporated milk and vanilla in medium saucepan. Cook over low heat, stirring constantly, until SPLENDA® Brown Sugar Blend dissolves. Bring mixture to a boil over medium heat and cook until candy thermometer reaches or 265 degrees (about 10 minutes). Pour mixture over crust and spread evenly. Bake 10 additional minutes. Cool 5 minutes on a wire rack.
Topping Directions: COMBINE chocolate squares and SPLENDA® Brown Sugar Blend in top of a double boiler; bring water to a boil. Cook until chocolate melts and mixture is blended. Drizzle (or spread) over toffee. Sprinkle with chopped pecans. Cool completely on wire rack. When chocolate is firm, cut into bars or diamond shapes. Store in an airtight container.
Number of servings (yield)
30
Category
Dessert
Related

All Johnson and Johnson Wellness Recipes
Ratings & Reviews
Yummy goodness my family loved! Thanks for sharing!
Bobbi P. – 03/06/2015 –