Vegetable Recipes
Simply Orange® Chickpea Stir-Fry
Summary
What You Need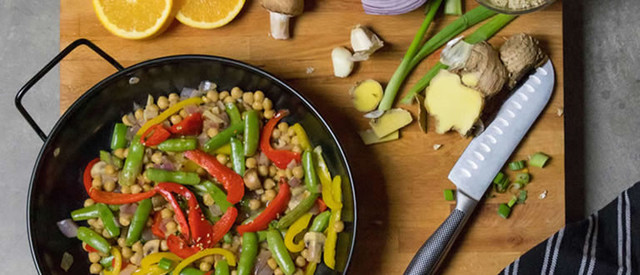 Instructions
In a medium sauce pan on low heat add Simply Orange, honey, soy sauce, ginger, arrowroot, and orange zest. Whisk until arrowroot is dissolved and sauce is bubbly, about 5 minutes. Set aside.
Preheat a large skillet over medium-high heat and add in 1 tbsp of the sesame oil. Add chickpeas. Stir frequently and cook until they begin turning slightly golden brown, 4 - 5 minutes. Transfer to a large bowl and set aside.
In the same skillet, over medium heat, add the other 1/2 tbsp of sesame oil and onions to the pan. Sauté onions until they become slightly translucent, about 3-4 minutes.
Next add garlic, mushrooms and bell peppers, and cook for about 3 minutes, until slightly softened. Then add sugar snap peas, and sauté for 3-4 minutes, keeping them still firm.
Add the sauce to the vegetables in skillet and stir. Add the chickpeas and stir again, making sure the vegetables are all covered.
Serve stir-fry over quinoa. Garnish with toasted sesame seeds, green onion and red pepper flakes to taste.
Number of servings (yield)
4 servings
Category
Vegetable
Related

All Coca-Cola Recipes
Ratings & Reviews
Be the first to rate & review this recipe!