Soup Recipes
Bacon & Baked Potato Soup
Summary
Family Favorites For Less!
What You Need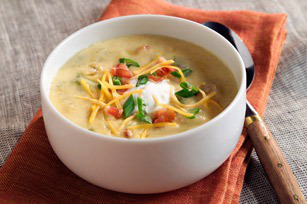 Instructions
MELT butter in large saucepan or Dutch oven on medium heat. Add yellow onions and celery; cook and stir 5 min. or until crisp-tender. Add next 4 ingredients; bring just to boil, stirring constantly. Slightly crush potatoes with back of spoon. Simmer on medium-low heat 5 min., stirring frequently.
RESERVE 1 Tbsp. green onions and 2 Tbsp. each bacon and cheese. Add remaining green onions, bacon and cheese to soup; cook 5 min. or until cheese is melted, stirring constantly.
SERVE topped with reserved green onions, bacon, cheese and sour cream.
Variation
Serve this hearty soup with a quick bagged green salad tossed with your favorite KRAFT Lite Dressing.
Cooking time (duration)
Prep: 30 min Total: 30 min
Number of servings (yield)
6
Category
Soup
Related

All Kraft Heinz Recipes
Ratings & Reviews
I served this to my family for lunch on a snow day and they all loved it!! It had a huge amount of flavor and was just what we all needed to warm up before going back out to play in the snow.
Anonymous – 02/24/2014 –
Temperature is still cool in the evening....perfect soup to heat it up!! Lots of wonderful flavors...added some EXTRA bacon
Angela D. – 03/11/2014 –