Snack Recipes
Vegetable-Queso Dip
Summary
What You Need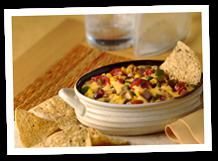 Instructions
Heat the oil in non-stick sauté pan over high heat.
Add tomatoes, peppers, onions, mushrooms and corn. Cook for 4 minutes.
Remove vegetables from pan and place in mixing bowl.
Add TOSTITOS® Salsa Con Queso and parsley and combine evenly.
Pour dip into a serving bowl and serve immediately with TOSTITOS® Multigrain Tortilla Chips and fresh broccoli florets.
Category
Snack
Submitted by
Frito-Lay
Ratings & Reviews
Love this with some lime tortilla chips!! Great for some football
Angela D. – 01/30/2014 –