Snack Recipes
Kashi® GOLEAN® Crunch!® Yogurt Parfait
Summary
What You Need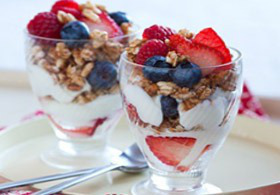 Instructions
LAYER alternately the fruit, yogurt, and GOLEAN® Crunch!® cereal in a 6-ounce parfait or sundae style glass.
REPEAT until you use all the ingredients and garnish with fresh sprigs of mint, if you like.
Variation
Enjoy this parfait thru the year with different fruits in season!
Cooking time (duration)
Prep: 10 min, Total: 10 min.
Number of servings (yield)
2
Category
Snack
Submitted by
Kashi®
Ratings & Reviews
I ate this last night as a late night treat and it was fantastic! I was craving yogurt and so I thought I would try this one out...it was awesome!!!
Bobbi P. – 02/04/2015 –
Just had this for breakfast and I was really impressed! Super easy to make and super yummy to eat! Will be making again in the very near future.
Jess S. – 03/04/2015 –