Salad Recipes
Figs with Blue Cheese and IZZE® Sparkling Pomegranate Glaze
Summary
Tasty - sweet and savory - delight!
What You Need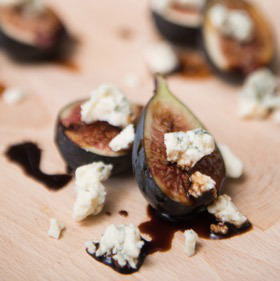 Instructions
Add the balsamic vinegar and IZZE Sparkling Pomegranate into a small saucepan, and simmer over low heat until the liquid has reduced and a syrup has formed, about 10 minutes.
Place fig slices on a plate, and cover with crumbled blue cheese.
Then spoon the pomegranate glaze on top.
Serve warm.
Number of servings (yield)
4 servings
Category
Salad
Related

All Pepsi Recipes
Ratings & Reviews
Oh My Goodness...these are amazing!!!!
Bobbi P. – 05/08/2015 –
Such a delicious little treat! These are a great dessert or snack for the family.
Cerra S. – 05/15/2015 –