Lunchtime Recipes
Mushroom and Eggplant Veggie Burger
Summary
What You Need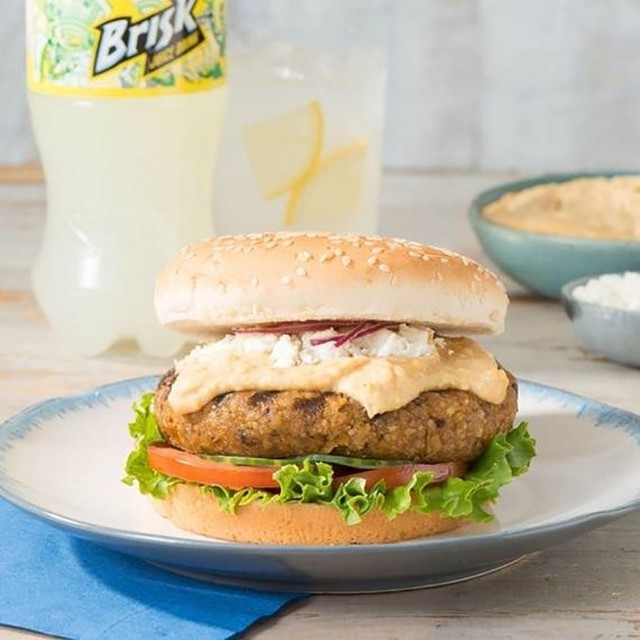 Instructions
Preheat oven to 425°F. Toss together eggplant, mushrooms and salt. Place in colander set over large bowl; let stand for 15 to 20 minutes or until moisture is released. Spread onto paper towel–lined tray and pat dry with additional paper towels.
In large bowl, whisk together oil, paprika, cumin, pepper and garlic; add eggplant, mushrooms and chopped onion, tossing well. Arrange in even layer on foil-lined baking sheet. Roast, stirring halfway, for about 25 minutes or until lightly browned and tender; let cool completely. Meanwhile, prepare Near East Couscous according to package directions. Spread out on plate into thin layer; cover and let cool completely.
In food processor fitted with metal blade, combine roasted vegetables and chickpeas; pulse until mixture is coarsely chopped. Add couscous, bread crumbs and eggs; pulse until well combined but not puréed. Using damp hands, form into six 1/2-inch thick patties. Refrigerate for about 30 minutes or until firm.
Preheat grill to medium-high heat; grease grates well. Grill patties, turning once, for 12 to 15 minutes or until well-marked and heated through. Serve on buns with lettuce, tomato, cucumber, feta, Sabra Roasted Garlic Hummus and red onion.
Cooking time (duration)
1 hour
Number of servings (yield)
6 servings
Category
Lunchtime
Related

All Pepsi Recipes
Ratings & Reviews
Be the first to rate & review this recipe!