Lunchtime Recipes
Chicken Philly Cheese Sandwich
Summary
An easy delicious sandwich made with Curly's Sauceless Chicken
What You Need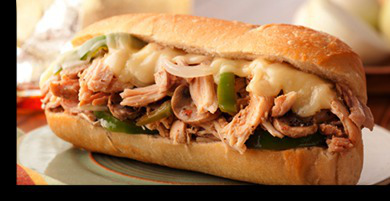 Instructions
Preheat oven to 350 degrees. In a large skillet, heat Worcestershire sauce, mushrooms, onions and green peppers.
Add Curly's Sauceless Chicken from the tub.
Stir and remove from heat.
Place ample servings on tasty, sub buns and top with provolone cheese.
Place subs on a cookie sheet and heat in oven for 5-7 minutes until cheese melts.
Remove from oven and serve with chips and a pickle.
Cooking time (duration)
Cook Time: 15 min
Number of servings (yield)
3 sandwiches
Category
Lunchtime
Submitted by
Curly's®
Ratings & Reviews
I am always looking for a unique idea for lunch and I found it! This recipe is amazing and adding a handful of potato chips really makes a meal.
Anonymous – 04/15/2014 –
Made this for lunch with some homemade french fries....very good!! added red and yellow peppers for a different flavors!
Angela D. – 04/17/2014 –