Dinnertime Recipes
The Sinful Seattle Stuffed Deliciosio Burger
Summary
What You Need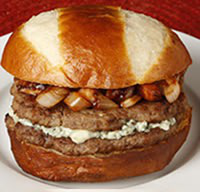 Instructions
Cook onions slow and low until almost caramelized. Add the Owens Meats Shitake Mushroom Sauce and coat onions.
Heat 2 beef patties following package directions.
Place cheese in the middle of one patty. Carefully top with second patty.
Place patty on toasted pretzel roll and top with onions, and bun top.
Number of servings (yield)
1
Category
Dinnertime
Submitted by
Ball Park Brand
Ratings & Reviews
This was such a yummy recipe! Add a serving of sweet potato fries and call it a meal!
Anonymous – 03/14/2014 –