Dinnertime Recipes
Sirloin and Vegetable Kebabs
Summary
What You Need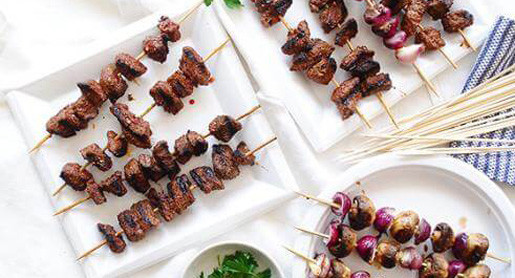 Instructions
Preheat a grill or grill pan until hot.
Place ground coriander and anise seeds in a medium bowl.
Add garlic, paprika, cayenne pepper and 1/4 cup olive oil.
Season marinade with salt and stir until combined.
Add sirloin cubes and stir to coat.
In a medium bowl, combine mushrooms, onions and remaining 1/4 cup olive oil.
Season with salt and pepper; toss to coat.
Divide steak among four skewers; thread, leaving 1/2 inch between each cube.
Divide vegetables among another four skewers; thread.
Grill the sirloin kebabs until well browned and medium rare, and grill the vegetable kebabs until glistening, tender and slightly charred, 5 to 7 minutes for both.
Serve on the skewers.
Category
Dinnertime
Related

All Chinet® Recipes
Ratings & Reviews
Be the first to rate & review this recipe!