Dinnertime Recipes
PORK AND GINGER DUMPLINGS WITH CASHEWS
Summary
What You Need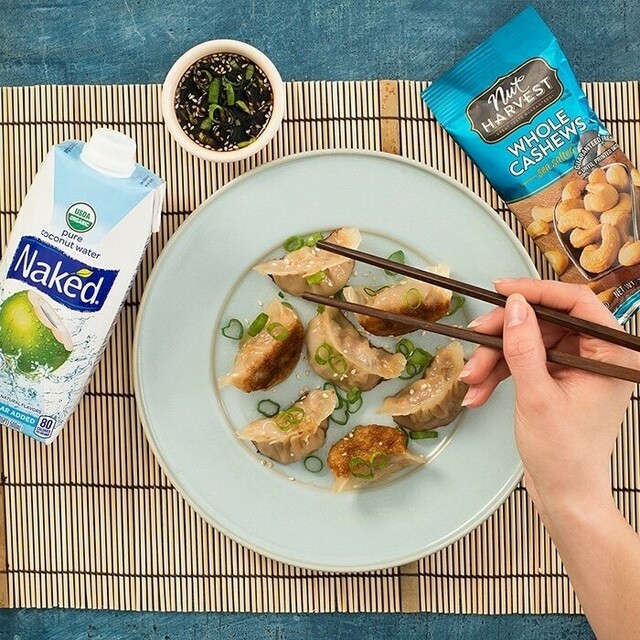 Instructions
Dumplings: Heat 2 tbsp (30 mL) canola oil in skillet set over medium-high heat; cook cabbage, ginger and garlic for 2 to 3 minutes or until cabbage is wilted. Stir in green onions; cook for 1 minute. Stir in rice wine vinegar and soy sauce. Cook for about 1 minute or until no liquid remains. Let cool completely. Mix together pork, cabbage mixture, 1/4 cup (60 mL) cashews, sesame oil and cornstarch.
Lay 1 wrapper on work surface. Place 2 tsp (10 mL) filling in center. Using fingertip, brush edges lightly with water. Fold wrapper over to enclose filling and form half-moon shape. Pinch to seal and press out any air. Repeat with remaining wrappers and filling. (For fancy dumplings: before sealing, form 5 to 6 tiny pleats along edge of half of the wonton wrapper; pinch together.) Place dumplings on parchment paper–lined baking tray.
Heat 2 tbsp (30 mL) canola oil in large nonstick skillet set over medium-high heat; cook half of the dumplings for 1 to 2 minutes or until bottoms start to brown. Add 2/3 cup (150 mL) water; cover and cook for 8 to 10 minutes or until filling is cooked through and bottoms are crispy. Repeat with remaining dumplings and canola oil. Arrange dumplings on serving platter. Garnish with remaining cashews and sesame seeds. Serve with Dipping Sauce.
Dipping Sauce: Meanwhile, in skillet set over medium-high heat, combine Pepsi™, soy sauce, vinegar and sesame oil; bring to boil. Cook for 3 to 5 minutes or until thickened slightly. Let cool completely.
Category
Dinnertime
Related

All Pepsi Recipes
Ratings & Reviews
Be the first to rate & review this recipe!