Dinnertime Recipes
Grilled shrimp with watermelon quinoa salad
Summary
What You Need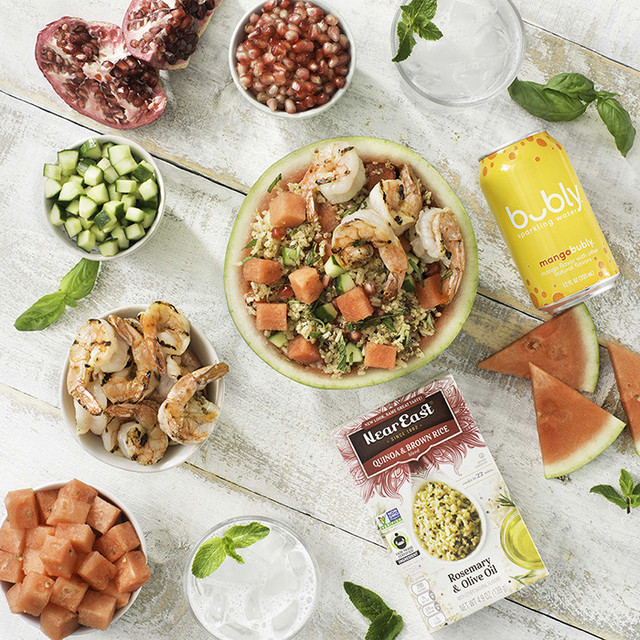 Instructions
Prepare Near East Quinoa Blend according to package directions; keep warm. Meanwhile, cut each watermelon in half and run knife around the inside between white and pink flesh. Using spoon, release pink flesh and scrape out each half to create hollow bowl. Chop enough watermelon to make 2 cups of cubes (reserve remaining watermelon for another use); set aside.
Meanwhile, whisk together Tropicana Pineapple Mango with Lime, olive oil, lime juice, honey and garlic; pour into large resealable plastic bag, reserving 1/4 cup. Add shrimp; let stand at room temperature for 15 minutes or refrigerate for up to 1 hour. Remove from marinade; season with salt and pepper.
Preheat grill to medium-high heat; grease grates well. Grill shrimp, turning as needed, for 5 to 7 minutes or until lightly marked and cooked through.
Toss together watermelon cubes, reserved dressing, cucumber, pomegranate seeds, feta, mint and basil; stir into prepared quinoa blend. Divide evenly among watermelon bowls. Top with grilled shrimp.
Category
Dinnertime
Related

All Pepsi Recipes
Ratings & Reviews
Be the first to rate & review this recipe!