Dinnertime Recipes
Classic Sloppy Joes
Summary
This is the one the kids (and lots of the grown-ups) will ask for again and again.
What You Need
1 tbsp vegetable oil
1/2 cup chopped onion
1/3 cup chopped green pepper
1 lb. lean ground beef
1 1/2 cup Heinz® Tomato Ketchup
2 tbsp brown sugar
1 tbsp Heinz® Worcestershire Sauce
1/4 tsp. salt
1/4 tsp. pepper
8 sandwich buns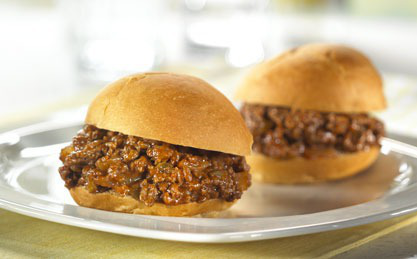 Instructions
Heat oil in a large frying pan set over medium-high heat. Cook onion and pepper for 5 minutes.
Add beef to the pan. Cook, stirring until browned, about 5 to 10 minutes. Drain off fat.
Stir in Ketchup, brown sugar, Worcestershire sauce, salt, and pepper. Simmer over medium-low heat, stirring occasionally, for 10 minutes or until slightly thickened. Serve on sandwich buns.
Cooking time (duration)
Prep. time: 10 min Cook time: 25 min
Number of servings (yield)
8 servings
Category
Dinnertime
Submitted by
Heinz
Ratings & Reviews
We are going to make this tonight...it reminds me of when I was little and would watch Rosanna on TV...she and her sister had a lose meat sandwich shop. This is just awesome!
Bobbi P. – 03/27/2015 –
My mom used to make this all the time - I make up some cole slaw and put it on the sandwich - delicious!
Jane C. – 04/07/2015 –