Dinnertime Recipes
Chicken and Rice Casserole
Summary
What You Need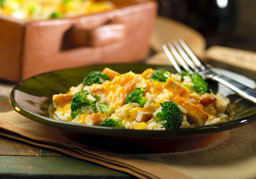 Instructions
Preheat oven to 350.
In a medium bowl combine chicken, gravy, rice, 1/2 cup cheddar cheese, cooked and drained broccoli and garlic powder.
Season with salt and pepper to taste and mix well.
Spread evenly in 8 X 8 baking dish.
Top with remaining 1/2 cup of cheddar cheese.
Bake 25 – 30 minutes until heated thoroughly.
If desired, substitute Heinz® HomeStyle Classic Chicken Gravy with Heinz® HomeStyle Fat Free Classic Chicken Gravy.
Cooking time (duration)
35 Minutes
Category
Dinnertime
Submitted by
Heinz HomeStyle Gravy
Ratings & Reviews
Perfect go to meal for a weekday night. We are so busy with year round baseball...I really do not have a lot of time to make a great meal. This was perfect for me...thanks so much for sharing.
Bobbi P. – 10/21/2014 –