Dessert Recipes
S'mores Cookies with Caramel Drizzle
Summary
What You Need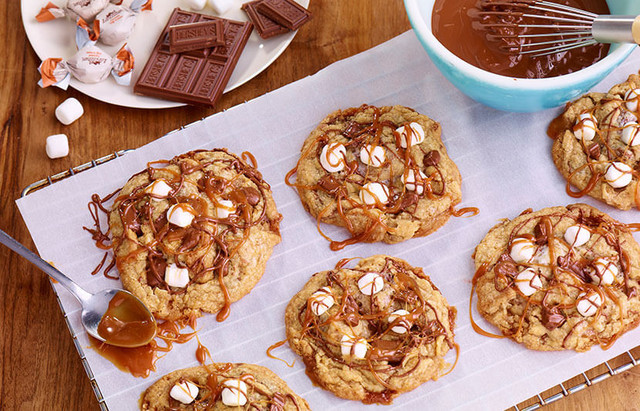 Instructions
Heat oven to 350°F. Line cookie sheets with parchment paper. Set aside 1 chocolate bar for drizzle; unwrap remaining chocolate bars and break into small pieces. Break graham crackers into pieces about 1/2 to 1 inch in size. Stir together chocolate bar pieces, graham cracker pieces and 1-1/4 cups miniature marshmallows; set aside.
Beat butter and sugar in large bowl until well blended. Add egg and vanilla; beat until thoroughly blended. Stir together flour, graham cracker crumbs and baking powder. Gradually blend into butter mixture. Stir in chocolate bar mixture (batter will be stiff). Drop dough by heaping tablespoons onto prepared cookie sheets.
Bake 9 to 11 minutes or until cookie is set and edges are lightly browned. (Marshmallow will melt out along edges of cookies.) Place cookie sheet on wire rack. Immediately press 4 to 6 of remaining marshmallows onto top of cookie. Use edge of knife or spatula to push melted marshmallow back to edges of cookie. Cool several minutes; slide parchment paper and cookies off cookie sheet to wire rack. Cool completely.
Remove wrapper from remaining chocolate bar; break into pieces and place in small microwave-safe bowl. Microwave at MEDIUM (50%) 30 seconds; stir. If necessary, microwave at MEDIUM an additional 10 seconds; stir until chocolate is melted and smooth. Drizzle melted chocolate over cookies.
Remove wrappers from caramel candies. Place candies and water in small microwave-safe bowl. Microwave at MEDIUM 30 seconds; stir. If necessary, microwave at MEDIUM 10 seconds or until caramels are melted and smooth when stirred. Drizzle melted caramel over cookies. Allow chocolate and caramel to firm. Peel cookies from parchment paper. Makes about 22 large cookies.
Number of servings (yield)
22 Cookies
Category
Dessert
Related

All Hershey Recipes
Ratings & Reviews
Be the first to rate & review this recipe!