Dessert Recipes
Macaroon Cookie Nests
Summary
What You Need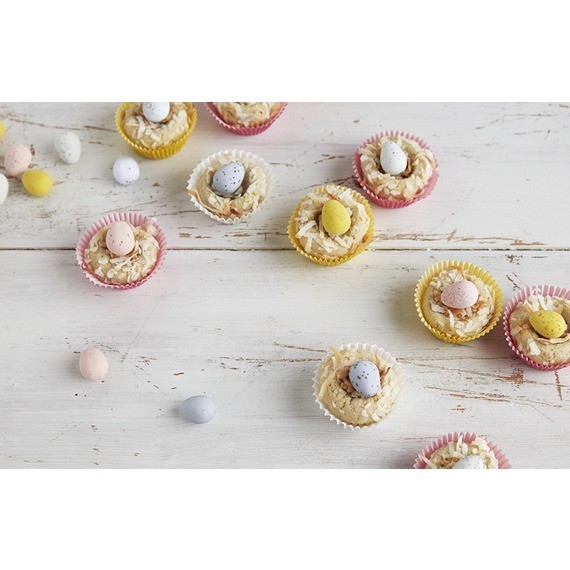 Instructions
1. Line 30 small muffin cups (1-3/4 inches in diameter) with paper or foil baking cups. Tint 1 cup coconut green following directions given below for TINTED COCONUT; set aside.
2. Beat butter, sugar, water and vanilla in medium bowl until well blended. Add egg; beat well. Stir together flour, salt and baking soda. Gradually beat into butter mixture, beating well. Divide dough in half. Add several drops green food color to one half dough, blending until desired color is achieved. Refrigerate doughs about 30 minutes or until firm enough to handle.
3. Heat oven to 350°F. Shape dough into 30 balls (about 1 inch). Roll green cookie balls in green tinted coconut and the remaining balls in the remaining untinted coconut; place in prepared muffin cups.
4. Bake 12 to 14 minutes or until cookie surface is set. Cookies will appear soft and moist. Do not over bake. Let cookies cool about 3 minutes; with end of buttered wooden spoon press indentation into surface of each cookie. Let cookies cool completely in pans on wire rack.
5. To serve cookie nests, place candy egg into indentation of each cookie. Makes 30 cookies.
Number of servings (yield)
30 cookies
Category
Dessert
Related

All Hershey Recipes
Ratings & Reviews
Be the first to rate & review this recipe!