Dessert Recipes
Lemon-Lime Daiquiri Layered Dessert
Summary
Great for St. Patrick's Day
What You Need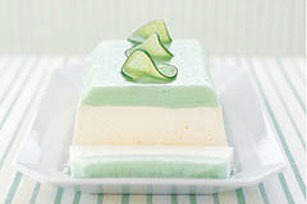 Instructions
LINE 9×5-inch loaf pan with foil. Spoon sherbet into prepared pan; spread to form even layer in pan. Freeze 10 minutes.
BEAT cream cheese spread in large bowl with wire whisk until creamy. Gradually add sweetened condensed milk and lime juice, beating until well blended. Stir in whipped topping; spread over sherbet layer in pan.
FREEZE at least 3 hours or overnight. Cut into 12 slices to serve. Store leftover dessert in freezer.
Cooking time (duration)
3 hours 25 minutes
Number of servings (yield)
12
Category
Dessert
Submitted by
Cerra Sampson
Ratings & Reviews
Great idea for St. Patrick's Day!
Gina S. – 03/14/2014 –
Reminds me of Daiquiri Ice Cream from when I was little, it was my favorite! :-)
Alexis R. – 03/18/2014 –