Dessert Recipes
Grilled Sponge Cake with Vanilla Ice Cream
Summary
What You Need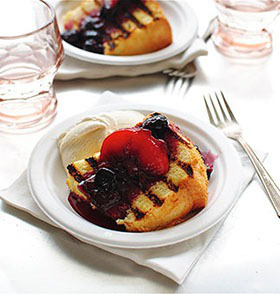 Instructions
Preheat oven to 325 degrees F.
In a medium mixing bowl, combine sugar, egg yolks and vanilla, whisking until smooth and frothy. Add the lemon zest and juice and whisk until well-combined. In a separate, larger mixing bowl, sift the cake flour and salt together; a fine-mesh sieve works well for this. Gingerly and gradually fold the egg yolk mixture into the sifted flour.
In another mixing bowl, beat egg whites on high speed with a hand mixer until just frothy. Continue beating while gradually adding the sugar. Beat on high until soft peaks form. Gently fold beaten egg whites into batter, making sure not to deflate the air bubbles in the whites. Pour batter into an ungreased 10-inch tube pan and bake in the center of the oven for 45 minutes. Cool, upside-down, in pan.
Preheat the grill and make sure it is very clean. Cut the cooled cake into 8 slices, and then grill on both sides until nicely toasted on outside but still soft and moist on the inside, about 1 to 1 1/2 minutes per side, depending on how hot your grill is. Serve cake slices with cooled fruit compote and whipped cream, if desired.
Category
Dessert
Related

All Chinet® Recipes
Ratings & Reviews
OMG...I can host a BBQ and actually BBQ everything even the dessert! I love it!
Anonymous – 04/29/2014 –