Dessert Recipes
Five Minute White Chocolate Hazelnut Pie
Summary
The fluffy filling in this pie packs a flavorful punch of white chocolate and hazelnut-flavored coffee.
What You Need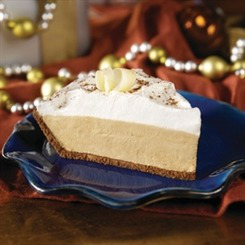 Instructions
WHISK together milk and coffee powder in large bowl. Add pudding mix. Beat with wire whisk for 1 minute. (Mixture will be thick.) Whisk in half of whipped topping.
SPREAD in crust. Top with remaining whipped topping. Garnish as desired. Enjoy immediately or refrigerate until ready to serve.
Cooking time (duration)
Prep: 5 min, Total: 5 min.
Number of servings (yield)
8
Category
Dessert
Submitted by
Keebler
Ratings & Reviews
You had me at 5 minutes! Let's make this pie!
Candy O. – 03/28/2014 –
I love this recipe so much!!! I could make it every week for dessert. The flavor is amazing and when served with a hot cup of coffee....you have the perfect dessert.
Anonymous – 02/26/2014 –