Dessert Recipes
CHIPS AHOY! Celebration "Cake"
Summary
What You Need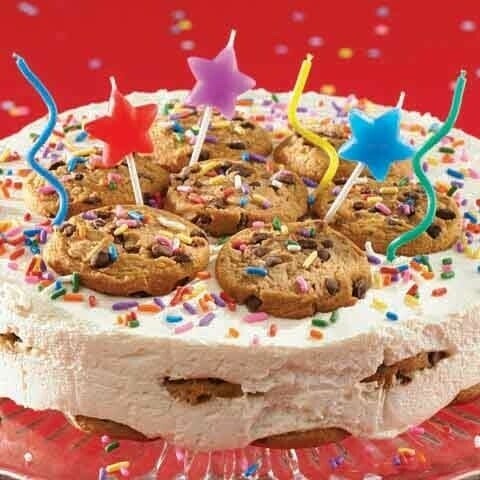 Instructions
Beat cream, sugar and vanilla in medium bowl with mixer on high speed
until stiff peaks form.
Line 9-inch round pan with plastic wrap. Arrange 13 cookies onto bottom
of pan; cover with half the whipped cream. Repeat layers. Top with remaining cookies, arranging in circular pattern in center of whipped cream. Refrigerate 4 hours.
Cover large plate with plastic wrap. Invert dessert onto plate; remove plastic wrap. Invert dessert onto separate plate; remove remaining plastic
wrap. Smooth top surface of dessert. Garnish with sprinkles.
Cooking time (duration)
4 hr 30 min total
Number of servings (yield)
Makes 16 servings
Category
Dessert
Related

All Nabisco Recipes
Ratings & Reviews
Be the first to rate & review this recipe!