Breakfast Recipes
Ham, Egg, and Cheese Breakfast Biscuit
Summary
What You Need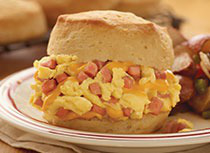 Instructions
Prepare biscuits according to instructions on package, slice in half and set aside.
Spray pan with non-stick cooking spray and place over medium heat. Once pan is hot, add diced ham, and brown. Add eggs and cheese and scramble until eggs are cooked and cheese has melted. Salt and pepper to taste.
Generously spoon ham, egg and cheese mixture between two biscuit slices and enjoy!
Category
Breakfast
Submitted by
John Morrell
Ratings & Reviews
Now this is what I call a yummy goodness for breakfast!
Anonymous – 04/14/2014 –