Appetizer Recipes
Sweet & Savory Crock-Pot Meatball Appetizer
Summary
Armour Makes it Easy. You Make it Great.
What You Need
3 (12 ounce) jars of chili sauce
3 (12 ounce) jars of sugar free grape jam
3 (14 ounce) packages Armour® Original Bite Size Meatballs, thawed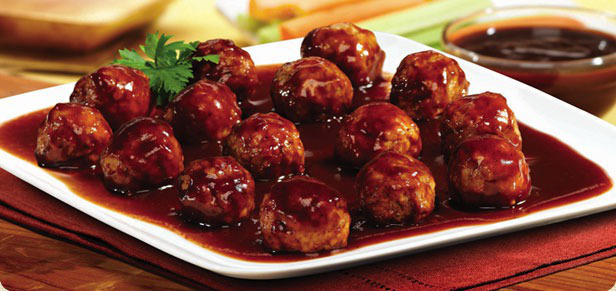 Instructions
Put chili sauce and jelly in a large pot, heat until jelly is melted and sauce is smooth, stirring often.
Add frozen meatballs and sauce to Crock-Pot; heat until meatballs are thawed and simmer for up to 6 hours.
Cooking time (duration)
Prep Time: 20 min, Total Time: 20 min
Number of servings (yield)
48 hours
Category
Appetizer
Related

All John Morrell Recipes
Ratings & Reviews
This is the perfect starter to any dinner party.
Anonymous – 04/15/2014 –
had these for an appetizer for Easter dinner...YUMMY!!
Angela D. – 04/24/2014 –