Appetizer Recipes
Hanukkah Latkes and Coca-Cola Applesauce
Summary
What You Need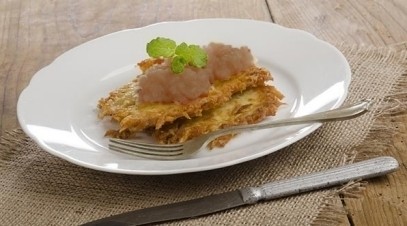 Instructions
Combine apples and water in a slow cooker. Cover and cook on low for 5 to 6 hours. Add cinnamon, brown sugar and Coca-Cola, stir to blend and cook an additional hour. Mash lightly and cool before serving. For the latkes, grate the peeled potatoes on the large side of a metal grater. Mix the potatoes, onion and eggs together until well combined. Mix the salt, flour, and baking powder in a bowl and add to the potato mixture, combining all ingredients by hand or with a large wooden spoon. Heat canola oil in a skillet over medium heat. Use 1/4 cup of the potato mixture per latke, and place into the hot oil. With the back of a spatula, press down to make a patty. Fry the patty until brown on the bottom, flip and cook the other side until golden brown, 2-3 minutes per side. Repeat with the rest of the potato mixture, replenishing the oil as needed. Serve hot with Coca-Cola applesauce and sour cream on the side.
Number of servings (yield)
12 servings
Category
Appetizer
Related

All Coca-Cola Recipes
Ratings & Reviews
Be the first to rate & review this recipe!