Use MyMilitarySavings.com for Easy Access to DeCA Commissary Coupons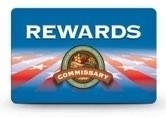 Using DeCA commissary coupons has never been easier, thanks to MyMilitarySavings.com. We formed a partnership with the Defense Commissary Agency (DeCA) to show military families how easy it is to use the Commissary Rewards Card program to save time and money when shopping for groceries and other household items. We understand the sacrifices made and challenges faced by servicemen and women and their families every day, and that's why we are committed to making it as easy as possible to find ways to save money and stretch the dollar.
Here's how to find and redeem DeCA commissary coupons at MyMilitarySavings.com:
Pick up a Commissary Rewards Card on base.

Visit MyMilitarySavings.com and become a member for free.

On our Coupons page, you will find a link that you can click to register your Commissary Rewards Card online.

After you've registered your Rewards Card, you'll be able to find hundreds of digital coupons that can be downloaded to your card.

Once you redeem the coupons at the commissary, you will see your savings on your printed receipt.
When you join MyMilitarySavings.com, you will not only have easy access to the digital DeCA commissary coupons, but you'll find hundreds of coupons from name brand sponsors that are easy to clip, print, and redeem while shopping on base. We feature deals on everything from family health and adult beverages to diapers and dog treats, so you'll surely find discounts on the products you want and need. As a member, you'll also receive valuable coupons via email that can be printed and redeemed at your local commissary for added savings.
Finally, there's one more thing you'll find on MyMilitarySavings.com. You'll find a community of like-minded military families who are committed to a life of service that comes with certain demands. Our members understand this because they are all living with the same set of challenges, and when you join us, you'll have access to blogs, recipes, and other valuable information to make life a little easier. Additionally, you can join our lively Facebook or Pinterest page to make new friends and find fun tips.
For more information about using commissary coupons from DeCA and popular manufacturers, and the numerous benefits you will enjoy when you have access to MyMilitarySavings.com, join us today.