Military Shoppers Can Find Hotel Discounts and More at MyMilitarySavings.com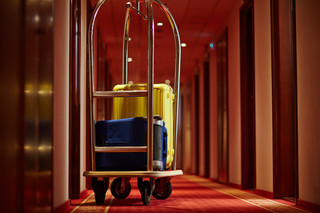 Searching for military hotel discounts can seem daunting at times, but with MyMilitarySavings.com, it's easy for members of the armed forces and their families to find deals on lodging and more throughout the world. At MyMilitarySavings.com, we understand how difficult it can be for military families to find special rates on their travel needs. That's why we've gathered together specials from the Armed Forces Vacation Club (AFVC), MyHotelRewards.net, Government Vacation Rewards, and other sources for affordable rates on thousands of hotels throughout the world, all without any blackout dates to worry about.
When you sign up for your free membership at MyMilitarySavings.com, you'll be able to access more than just military hotel discounts for your business and leisure travel needs. You'll also find such exciting travel deals as:
Bargains on cruise packages to exciting destinations around the world
Special rates on airfare
Discounts on bus tickets
Train ticket savings
Special packages and other promotional ticket prices for theme parks and resorts worldwide
And more
At MyMilitarySavings.com, in addition to finding savings on destinations in more than 100 different countries around the world, you'll also be able to access our active online community of military shoppers like you. Our Facebook and Pinterest pages are lively and full of military families sharing their experiences, and we have a team of writers from military families who provide their insight on all sorts of topics through our helpful blog articles.
If you'd like to learn more about accessing military hotel discounts through our site, enroll for your free account at MyMilitarySavings.com today.