Seeking Military Discounts? Come to MyMilitarySavings.com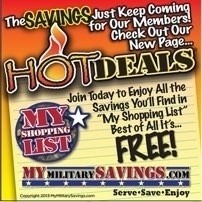 If you're looking for military discounts, then become a free member of MyMilitarySavings.com and enter a world of coupons and special deals. We formed MyMilitarySavings.com in 2011 because we understood the financial challenges faced by servicemen and women and their families, and saw a need for a comprehensive digital community where shoppers like you could find savings and discounts geared exclusively toward the modern military family. We've made it our mission to develop partnerships with key organizations that focus directly on armed forces personnel, including the Defense Commissary Agency (DeCA) and the Navy Exchange Store, as well as with other retailers who offer military discounts to show their appreciation for your service.
When you turn to MyMilitarySavings.com to find military discounts, you'll discover bargains and coupons for just about every conceivable purchase. For example, you'll find savings for:
Groceries

Home appliances

Electronics

Beauty supplies and fragrances

Handbags and accessories

Apparel

Travel

Jewelry

And much more
But MyMilitarySavings.com offers more than just military discounts, coupons, and opportunities to save money. Becoming a member of our website means you will also have access to dozens of members-only contests and sweepstakes where you can win prizes. More importantly, you'll become part of an online family of authorized shoppers who offer recipes and household tips, as well as provide support for and solutions to the challenges faced by military families. You can read blogs written by military spouses and even join our book club. We also have an active Pinterest page and a hugely popular Facebook page where you can make new friends and interact with like-minded individuals near and far.
To learn more about how we can help you serve, save, and enjoy, start a free membership with MyMilitarySavings.com today. Take advantage of the numerous military discounts and other invaluable benefits available to you when you join our community.