Find Military Commissary Coupons at MyMilitarySavings.com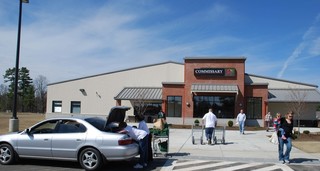 Commissary store coupons help military families to stretch the dollar, and smart families know that the place to go for the widest selection of valuable coupons offering significant savings is MyMilitarySavings.com. Because of our partnership with the Defense Commissary Agency (DeCA) we make it easy for military men and women to find and use commissary coupons, helping to streamline your busy to-do schedule and save money at the same time.
Here are two ways we make it easy for military families to use valuable commissary coupons:
Pick up a Rewards Card at the commissary or other locations behind the gates.


Visit MyMilitarySavings.com and become a member – it's free and easy!


Go to the Coupons page and find the link to register your Rewards Card online.


Once you've registered, you can find and download hundreds of digital coupons to your card and redeem them at the commissary or PX/BX, where your receipt will reflect all the money you've saved.
You can also visit our new "Featured Coupons" section at the top of the Coupons page on MyMilitarySavings.com. To print and redeem a Featured Coupon, please follow these simple steps:
From a mobile device: After you select a Featured Coupon, you will be prompted to enter an email address. Enter your email address and hit "Get Coupon," and we will email a custom print link just for you. To print the coupon, open the email on a non-mobile device with access to a printer. Click on your personalized link and print within 24 hours of receiving the email.


From a desktop/laptop computer: Click on a Featured Coupon and hit the "Print Now" or "Print within 24 Hours" button and follow the prompts. To troubleshoot printing a Featured Coupon, please access the link below.
But you'll find more than just commissary coupons and military discounts to help you save money when you join MyMilitarySavings.com – you'll also find an online community of like-minded military families offering friendship and support. We have thousands of members who understand the challenges a military lifestyle can present, and you'll find a wealth of information at your fingertips to make life easier. From informative blogs to delicious recipes, you'll discover valuable tips from people like you who are committed to service. Plus, you can find even more on our Facebook and Pinterest pages, which are loaded with fun facts, useful tips, and new friends just waiting to be made.
For more information about how military commissary coupons can help you save money, join MyMilitarySavings.com today for free on our sign-up page. Take advantage of the numerous discounts and other exceptional benefits we feature every day.