Savings Opportunities for Exchange Shoppers on Lackland AFB in San Antonio, TX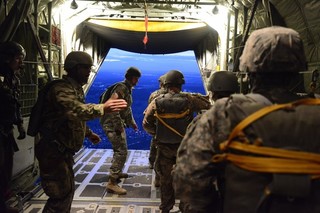 If you're interested in exchange coupons and other discounts that you can take advantage of for your next shopping trip on Lackland Air Force Base in San Antonio, Texas, look no further than MyMilitarySavings.com. We understand that it can be difficult for military shoppers and their families to find time out of their busy schedules to scour dozens of sites for discounts, which is why we've brought together coupons and deals from all over the internet into one simple site. We are your one-stop shop for discounts on all of your favorite items from the exchange store, from handbags to alcoholic beverages and beyond.
All it takes to access the many benefits of MyMilitarySavings.com is a free membership, and enrollment is fast and easy to complete. Once you've signed up, you'll be able to access a mountain of savings and exclusive exchange sweepstakes, as well as other helpful resources, including:
My Home Base, a convenient webpage that you can customize by setting your location to Lackland AFB in order to see local community events, sweepstakes, and information about the exchange store on your base
My Shopping List, a tool that lets you create an electronic shopping list that you can print out or take with you on your smartphone for your next trip to the exchange store
The My Home Base Circulars, a set of monthly interactive ads that feature the latest sweepstakes, hot deals, coupons, and other savings information
We also provide handy links to the Army and Air Force Exchange Service (AAFES) website, as well as those of the other branches of the Armed Forces. Be sure to check out our lively Facebook, Twitter, Instagram, and Pinterest pages, as well, to become an active part of our community of military shoppers.
For additional information about the mountain of savings you can find for use at the Lackland AFB exchange, enroll for your free account today at MyMilitarySavings.com.