At Nestlé Purina PetCare Company, we're passionately committed to making pets' lives better. As the pace of change in pet care accelerates, our challenge is to lead with fresh, innovative approaches to making the lives of dogs and cats better. We are proud of our heritage, and we are constantly exploring new trends and ideas that define the future of pet care and of Nestlé Purina.
Nestlé Purina PetCare Company U.S. General Office is located in St. Louis, Missouri 63164
Giveaways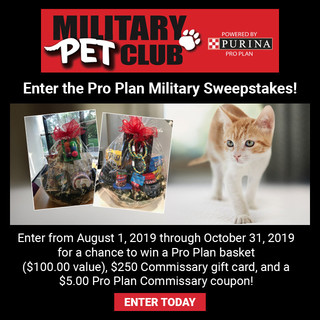 Pro Plan Military Sweepstakes
Enter from August 1, 2019 through October 31, 2019 for a chance to win a Pro Plan basket ($100.00 value), $250 Commissary gift card, and a $5.00 Pro Plan Commissary coupon!
Enter Now
At Nestlé Purina PetCare Company, we're passionately committed to making pets' lives better. As the pace of change in pet care accelerates, our challenge is to lead with fresh, innovative approaches to making the lives of dogs and cats better. We are proud of our heritage, and we are constantly exploring new trends and ideas that define the future of pet care and of Nestlé Purina.
Nestlé Purina PetCare Company U.S. General Office is located in St. Louis, Missouri 63164
Prices listed are only available at commissaries. Offers may not be available in all commissaries.
Serve. Save. Enjoy.