Nabisco is one of Mondelez International's billion-dollar brands. Its roots date back to 1898 when the United States Baking Company, the New York Biscuit Company and the American Biscuit & Manufacturing Company formed to become the National Biscuit Company. Today, Nabisco's brands include some of the best-known cookies and crackers in the world, including Chips Ahoy!, Oreo, Newtons, Ritz, Triscuit, Honey Maid, BelVita, Wheat Thins, Premium Saltines, Nilla, and our newest brand Good Thins.
Contests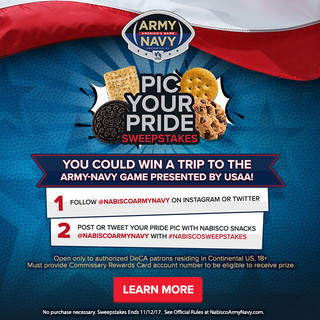 2017 Army-Navy "Pic Your Pride" Sweepstakes
Share a pic of your Army-Navy pride and/or your favorite Nabisco snacks @NABISCOARMYNAVY #NabiscoSweepstakes for your chance to WIN a trip to the Army-Navy Game!
Enter Now
Pricing and products may vary by Commissary or Exchange location.
Serve. Save. Enjoy.