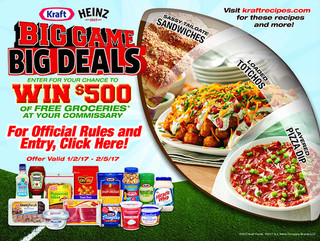 KRAFT HEINZ BIG GAME GIVEAWAY
Enter for a chance to win $500 of FREE Groceries at your Commissary! No purchase necessary.
Johnson & Johnson Navy Exchange Rebate
Submit your receipts dated 11/9/16-1/1/17 on purchases of $25 or more of eligible Johnson & Johnson products in one transaction from the Navy Exchange and receive a $10 Navy Exchange gift card.
Winners
Johnson & Johnson "Character Does Matter" Contest Winners
Paris S. - Elementary School - Clarksville, TN
Madilyn C.- Elementary School - Cabot, AR
Kalea Christine C. - Elementary School - Joint Base Lewis Mcchord, WA
Alexander J. - Middle School - Fayetteville, NC
Kady S. - Middle School - Colorado Springs, CO
Emily M. - Middle School - Twenty Nine Palms, CA
Eve G. - High School - APO, AE
Brandon D. - High School - APO, AE
Lylonda H. - High School - Land O Lakes, FL
KRAFT HEINZ FREE GROCERIES FOR-A-YEAR SWEEPSTAKES
Ronald S. - Hermosa SD
La Mar F. - Minot ND
Daniel W. - Moon, PA
Bill A. - Mineral VA
Deborah C. - Anchorage AK
James Z. -Las Vegas NV
Kellogg's Moana Movie Ticket Giveaway!
Congratulations to the 25 winners who each received a $25 Fandango Gift Card!
Jack Daniels Barrel Hunt Winners
Antonio E. - Fort Hood
Trevor L. - Fort Lewis
Damone K. - Andrews AFB
Aaron H. - Fort Benning
Paul B. - Fort Campbell
Reinaldo R. - Fort Jackson
Lennox P. - Langley AFB
Purina Kid Car Giveaway Winner
Margaret S. - Forest, VA
MyMilitarySavings.com SPLASH INTO SUMMER SWEEPSTAKES
Brandon K. - Fort Belvoir, VA
Purina Beyond TV Giveaway Winner!
Lauralee H. - Pueblo West, CO
Patriot Perks Sweepstakes
Congratulations to all 100 winners of the $100 Commissary Gift Card!
Purina 2016 National Pet Month Sweepstakes Winner!
Claudia M. - APO, AP
Purina "Month Of The Military Child/Pet" Contest Winners!
Craig L. - Largo, FL
Ronny T. - Clovis, NM
Dawn R. - Washington, IL
Melanie A. - Fallon, NV
Purina 2016 Pro Plan "Year's Supply Giveaway" Winners!
Michael H. - Mount Eden, KY
Erin V. - Fort Bragg, NC
Johnson & Johnson "Soak in the Sounds of the Season" Sweepstakes Winners!
Kellogg's "Pop Tarts Trivia Contest!"
Congratulations to all our winners:
Week 1:
Heather J. - San Diego, CA
Michael M. - San Diego, CA
Week 2:
Joe S. - Comanche, OK
Michele T. - Virginia Beach, VA
Week 3:
Maryann M. - Bellevue, NE
Harry H. - Withee, WI
Week 4:
Hailey B. - Killeen, TX
Soko S. - Virginia Beach, VA
Rules
No purchase necessary to win. These contests are random drawings open to all who possess a valid military ID card (active duty, Reserve, Guard, retiree, family members--all branches of service including U.S. Coast Guard), aged 18 and older with the exception of employees and family members of MyMilitarySavings.com and bBig Communications. Random prize winners will be drawn on or before 10:00AM Eastern Standard Time the following day of each contest. Winners will be notified by email and will be announced online at www.MyMilitarySavings.com and our Facebook page. Chance of winning prizes in these sweepstakes is determined by the number of entries received. Winners are responsible for any applicable federal, state and/or local taxes. These Sweepstakes are Void where prohibited by law. For more information and official contest rules click on the enter contest button.