Vegetable Recipes
Crispy-Topped Creamy Spinach
Summary
What You Need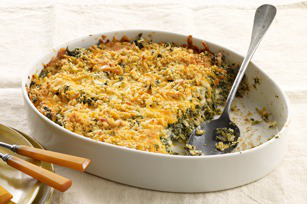 Instructions
Heat oven to 375°F.
Mix first 4 ingredients in large bowl until well blended. Stir in 3/4 cup cheddar and 1/2 cup cracker crumbs.
Spoon into 2-qt. casserole sprayed with cooking spray; top with remaining crumbs and cheddar.
Bake 20 to 25 min. or until casserole is heated through and cheese is melted.
Variation
Prepare using shredded cheddar cheese.
Cooking time (duration)
10 min prep 35 min total
Number of servings (yield)
12 servings
Category
Vegetable
Submitted by
Ritz
Ratings & Reviews
OH MY LOSS OF WORDS....thank you for this recipe. It looks FANTASTIC!!
Cerra S. – 11/01/2014 –
The ritz crackers with this was the Best!! Great appetizer for the party!
Angela D. – 12/07/2014 –