Soup Recipes
Tortilla Soup
Summary
What You Need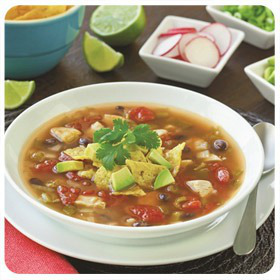 Instructions
HEAT oil in a large saucepan over medium-high heat. Add onion and garlic; cook 3 minutes, stirring constantly, until onions are softened. Add cumin; cook 30 seconds, stirring constantly.
STIR in broth, turkey, beans, tomatoes and chilies. Bring to a boil; reduce heat and simmer 15 minutes.
SERVE with tortilla chips, lime and choice of toppings, as desired.
Cooking time (duration)
Prep: 10 min, Total: 25 min.
Number of servings (yield)
4 servings
Category
Soup
Submitted by
Del Monte
Ratings & Reviews

Annette M. – 01/22/2022 –
Yummy...no matter where you live..hot or cold, soup is always a winner! I added some extra hot sauce to mine (I have a cold) and oh man did that add some flavor! Awesome recipe!
Bobbi P. – 02/04/2015 –