Snack Recipes
Sweet S'mores Snack Mix
Summary
Make mouth-watering summer drinks and desserts
What You Need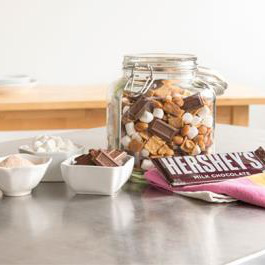 Instructions
Heat oven to 350°F. Line cookie sheet with foil. Lightly spray foil with vegetable cooking spray. Break graham crackers into 1/2- to 1-inch pieces; spread on prepared cookie sheet.
Place butter in small microwave-safe bowl. Microwave at MEDIUM (50%) 30 seconds. Add sugar and cinnamon; stir until butter is melted and mixture is blended. Drizzle over graham cracker pieces.
Bake 10 minutes; gently stir or turn over pieces. Bake an additional 10 minutes. Remove from oven; cool completely on cookie sheet on wire rack.
Remove wrappers from chocolate bars; break into sections. Toss graham cracker pieces with chocolate bar pieces, cinnamon graham cereal, marshmallows and peanuts. Store in cool, dry place.
Number of servings (yield)
Makes about 4 cups mix
Category
Snack
Related

All Hershey Recipes
Ratings & Reviews
I made these and gave them away at a party I had this weekend and all of my guests were so amazed. they said, "what a cute way to say thanks for coming". Thanks Hershey's!
Anonymous – 06/02/2014 –
amazing snack for my kiddos
Angela D. – 06/18/2014 –