Snack Recipes
Savory S'mores Snack Mix
Summary
What You Need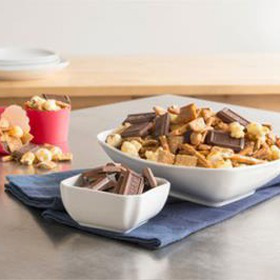 Instructions
Heat oven to 350°F. Line cookie sheet with foil. Lightly spray foil with vegetable cooking spray. Break graham crackers into 1/2- to 1-inch pieces; spread on prepared cookie sheet.
Place butter in small microwave-safe bowl. Microwave at MEDIUM (50%) 30 seconds. Add chili powder and cayenne pepper. Stir until butter is melted and mixture is blended. Drizzle over graham cracker pieces.
Bake 10 minutes; gently stir or turn over pieces. Bake an additional 10 minutes. Remove from oven; cool completely on tray on wire rack.
Remove wrappers from chocolate bars; break into sections. Toss graham cracker pieces with chocolate bar pieces, cinnamon graham cereal, marshmallows, popcorn, pretzel sticks and peanuts. Store in cool, dry place.
Number of servings (yield)
Makes about 5 cups mix
Category
Snack
Related

All Hershey Recipes
Ratings & Reviews
Perfect for a quick snack or the highlight of a party food table.
Bobbi P. – 07/01/2014 –