Salad Recipes
Spicy Green Tea Chicken, Edamame and Farro Salad
Summary
What You Need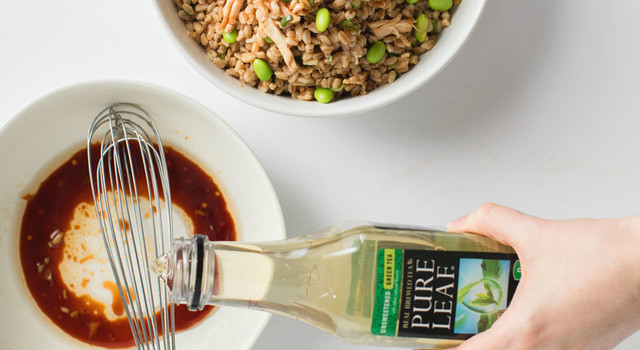 Instructions
In a large bowl, whisk together ¾ cup of Pure Leaf Unsweetened Green Tea, 3 tablespoons of soy sauce, 1 tablespoon of sriracha, 2 cloves of minced garlic and 1 tablespoon of brown sugar. Add ¼ cup canola oil in a slow, steady stream, whisking constantly to combine. Whisk in 2 teaspoons of sesame oil. Set aside ½ cup of the marinade in a separate small bowl, and pour remaining marinade into a large sealable plastic bag. Add 1 (8-oz) boneless, skinless chicken breast to the bag and fully submerge in marinade. Remove as much air as possible before sealing. Allow to marinate, refrigerated, for 2-4 hours.
Meanwhile, in a large saucepan of salted boiling water, cook 1 ½ cup of farro until tender, about 12-15 minutes. Drain and transfer to a large bowl. Fluff with a fork, cover and set aside.
Heat 1 tablespoon of canola oil in a grill or sauté pan over medium-high heat. Remove chicken from marinade and gently pat dry. Discard marinade and cook chicken, turning once until outside is golden and inside juices run clear, about 10 minutes total. Remove from pan and allow to cool for 5 minutes. Using two forks, shred the chicken into bite-sized pieces. Add shredded chicken, 1 cup of cooked edamame, and 2 trimmed and thinly scallions to the farro.
Whisk 3 tablespoons of lime juice or rice wine vinegar into remaining marinade and season with salt to taste. Pour dressing over farro salad and mix to evenly coat before serving.
Category
Salad
Related

All Pepsi Recipes
Ratings & Reviews
Be the first to rate & review this recipe!