Salad Recipes
Ham Pasta Salad
Summary
A cool favorite for hot summer days!
What You Need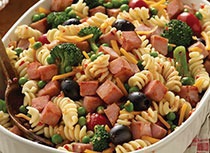 Instructions
Cook pasta according to directions on package. While pasta is cooking, sauté ham in frying pan until all sides are slightly browned then set aside.
Once pasta is cooked, drain and transfer to a large mixing bowl.
Mix in the Italian dressing until all of the pasta is coated.
Add sautéed ham and all remaining ingredients to bowl, mix well.
Cover and chill in refrigerator for 2-3 hours.
Category
Salad
Submitted by
John Morrell
Ratings & Reviews
Perfect side-dish for a family dinner night or to take to your next BBQ.
Bobbi P. – 07/07/2014 –
didn't use the tomatoes but loved this salad
Angela D. – 09/07/2014 –