Lunchtime Recipes
Clubhouse Sandwich
Summary
This is the kind of sandwich that could get you into any clubhouse. Who would say no to oven-roasted turkey breast and pastrami?
What You Need
4 slices OSCAR MAYER Fully Cooked Bacon
4 slices whole grain bread, toasted
2 Tbsp. KRAFT Mayo Horseradish-Dijon Flavored Reduced Fat Mayonnaise
6 slices OSCAR MAYER Deli Fresh Turkey Pastrami
6 slices OSCAR MAYER Deli Fresh Oven Roasted Turkey Breast
1 tomato, cut into 4 slices
2 lettuce leaves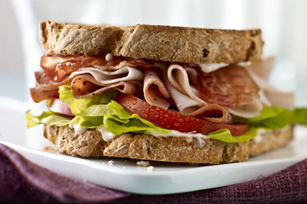 Instructions
HEAT bacon as directed on package.
SPREAD toast slices with reduced fat mayonnaise.
FILL with bacon and remaining ingredients to make 2 sandwiches.
Variation
Substitute MIRACLE WHIP Dressing or KRAFT Real Mayo Mayonnaise for the KRAFT Mayo Reduced Fat Mayonnaise.
Cooking time (duration)
Prep: 10 min Total: 10 min
Number of servings (yield)
2
Category
Lunchtime
Submitted by
KRAFT
Ratings & Reviews
Why not make tonight a make your own sandwich night with this yummy Clubhouse Sandwich recipe! (My family loved it and adding potato salad was a huge hit!)
Anonymous – 01/27/2014 –
Made these sandwiches for my children and they loved them....my son loved all the meats on the sandwich
Angela D. – 03/24/2014 –