Dinnertime Recipes
Sausage Broccoli Stir-Fry
Summary
What You Need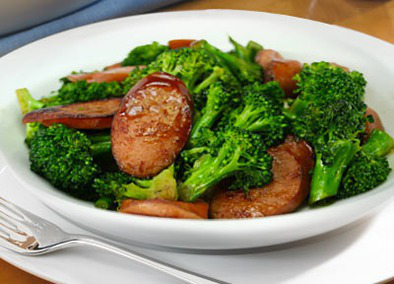 Instructions
In a large skillet, heat oil over medium-high heat.
Add the sausage, ginger and garlic. Stir-fry for 2 to 3 minutes or until lightly browned.
Add the broccoli, water and teriyaki sauce; cook and stir for 3 to 4 minutes or until broccoli is crisp-tender.
Serve over rice.
If desired, sprinkle with cashews.
Number of servings (yield)
5-6
Category
Dinnertime
Submitted by
Johnsonville®
Ratings & Reviews
This is a great recipe for a quick, but amazing dinner. I love when these amazing tastes are combined!
Anonymous – 05/08/2014 –