Dinnertime Recipes
Lea and Perrins Meatloaf
Summary
What You Need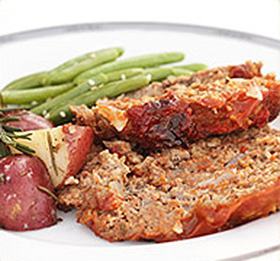 Instructions
Preheat oven to 350°F.
In a large bowl, combine all ingredients.
In 13"x9" baking or roasting pan, shape into a loaf.
Sprinkle top with additional Lea & Perrins® Worcestershire Sauce.
Bake uncovered 1 hour or until done.
Let stand 10 minutes before serving.
Tip: For a side dish to complement the Lea & Perrins Meatloaf recipe, try one of the Ore-Ida frozen Roasted Potato varieties.
Cooking time (duration)
90 Minutes
Number of servings (yield)
8 Servings
Category
Dinnertime
Submitted by
Lea and Perrins
Ratings & Reviews
You all are amazing, I hate meatloaf and this is twice you have got me. I can't believe how wonderful the taste is...I always hated meatloaf because all it tasted like was tomatoes...but this one is wonderful!
Bobbi P. – 10/22/2014 –