Dinnertime Recipes
Kashi 7 Whole Grain Flakes-Crusted Halibut
Summary
What You Need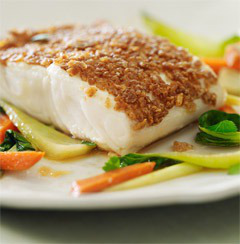 Instructions
Preheat oven to 350° degrees
Dip one side of the halibut in the egg white and then into the Kashi® 7 Whole Grain Flakes cereal to form a crust of that will adhere to the fish. Set in the refrigerator to get firm, about an hour.
Heat an ovenproof sauté pan to medium heat. Place half of the olive oil in and let it get hot. Place the fish crust side down in the pan. Cook on this side for about two minutes or until golden brown.
Flip to the other side and place the ovenproof pan in the oven for about five minutes or until the juices that come out are white in color.
Remove the pan from the oven and place the fish on a dish to rest. Meanwhile in the same pan, over medium heat add the other tablespoon of olive oil and let it get hot.
Now, add all of the vegetables; the carrots, bok choy, and scallions and cook while stirring, about five minutes.
Next add the dark agave nectar, soy sauce, ginger, and rice wine vinegar to the pan, stir together and cook for an additional minute.
Toss in the cilantro and sesame oil, stir once more and divide between two plates.
Top the stir-fry with the Kashi crusted halibut and serve.
Cooking time (duration)
Preparation Time: 45 minutes
Number of servings (yield)
2
Category
Dinnertime
Submitted by
Kellogg's
Ratings & Reviews
Yummyness is the word for this recipe. My family and I loved it...the tastes are amazing, and go together like PB&J. This was the perfect Thursday night meal...not too hard to complete, but full of taste.
Bobbi P. – 11/14/2014 –