Dinnertime Recipes
Grilled Bruschetta Chicken
Summary
What You Need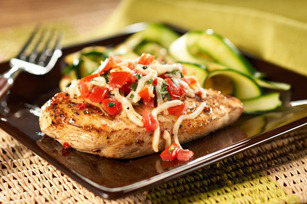 Instructions
HEAT grill to medium heat.
PLACE chicken in large resealable plastic bag. Add 2 Tbsp. dressing; seal bag. Turn bag over several times to evenly coat chicken with dressing. Refrigerate 10 min. Remove chicken from bag; discard bag and dressing.
COVER half the grill grate with sheet of heavy-duty foil. Place chicken on uncovered side of grill grate; grill 6 min. Meanwhile, combine remaining dressing, tomatoes, cheese and basil.
TURN chicken over; place on foil. Top with tomato mixture. Grill 8 min. or until chicken is done (165ºF).
Variation
Marinate chicken in shallow glass dish instead of in the plastic bag.
Cooking time (duration)
Prep: 25 min Total: 35 min
Number of servings (yield)
4
Category
Dinnertime
Submitted by
KRAFT
Ratings & Reviews
Perfect meal for any occasion...tastes amazing and any side dish accompanies it well.
Anonymous – 03/03/2014 –
I had never thought of putting brochette on chicken! GENIUS! This is my new fav dish!!
Cerra S. – 09/08/2014 –