Dinnertime Recipes
Grilled Beef Skewers with Miller Lite Base Marinade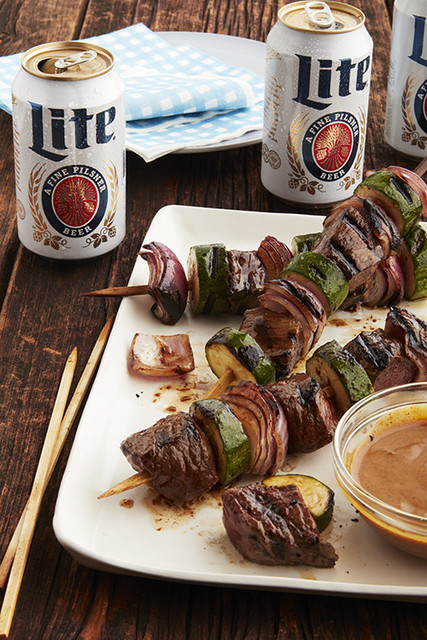 Instructions
Combine the marinade with the herbs and Worcestershire sauce.
Cut the beef into roughly 1½-inch cubes. Combine them in a bag with the marinade and squeeze out any excess air. Let rest at room temperature for 1 hour, or refrigerate for up to 4 hours. Meanwhile, if you're using wooden skewers, put them in a bowl or dish and cover them in water so they're completely submerged and let soak for at least 1 hour.
Slice the zucchini into ½- to ¾-inch-thick coins and chop the onion into roughly 1½ inch pieces. Toss both with the olive oil to coat. Thread the beef onto the skewers, alternating with slices of zucchini and a couple pieces of onion.
Heat the grill to medium-high (about 450°F) for 5 minutes. Clean the grate (be careful of the flames), then add the skewers and cook, undisturbed, for 2 to 3 minutes, until the beef is seared with visible grill markings. Use tongs to rotate the skewers and continue cooking, about 3 minutes per side, until it's seared all over and its centers read 130°F to 135°F on an instant read thermometer. Serve immediately with Miller Lite-Mustard BBQ Sauce on the side.
TIP: Soak wood skewers in water for at least 1 hour before putting on the grill, it prevents splitting and the skewers from burning.
TIP: Skewering through the skin of the zucchini, as opposed to the flesh, will maximize surface area and allow for those beautiful grill marks.
Cooking time (duration)
105 minutes
Number of servings (yield)
4-6 servings
Category
Dinnertime
Related

All MillerCoors Recipes
Ratings & Reviews
Be the first to rate & review this recipe!