Dinnertime Recipes
Diet Pepsi Teriyaki Chicken
Summary
What You Need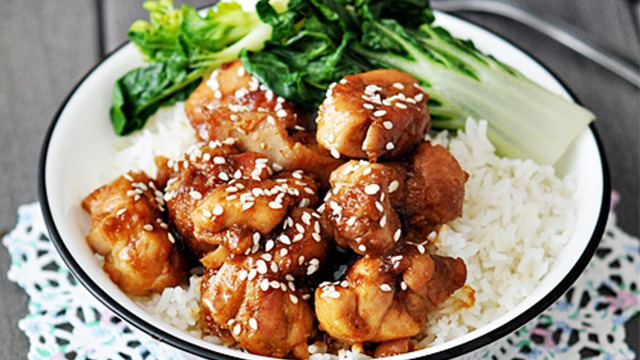 Instructions
Peel ginger and garlic. Grate them onto a bowl and set aside.
Dice the chicken thighs.
Heat a stir fry pan on medium flame, and dry toast 1 tablespoon of sesame seeds until lightly brown ed. Remove from pan on a flat plate to cool.
Add grated ginger, garlic and sesame oil over medium flame until it sizzles.
Add chicken and white pepper. Stir to combine the chicken with the ginger-garlic mixture. Brown the chicken over medium heat.
Remove the chicken and add 1 cup of Diet Pepsi. Allow the mixture to cook on high heat until thickens (above half the original amount).
Add chicken and season with soy sauce to taste. Over low heat, simmer the chicken until the sauce thickens a little more.
Sprinkle the toasted sesame seeds just before serving. Best eaten with steamed rice.
Number of servings (yield)
4
Category
Dinnertime
Related

All Pepsi Recipes
Ratings & Reviews
Yummy...my favorite soda-pop and chicken...perfect combination! Add your favorite rice and grilled veggies to this recipe and you will be set! Even the kiddos liked it.....I say, "Winner-Winner Chicken Dinner"!
Anonymous – 02/03/2014 –