Dinnertime Recipes
Classic American Burgers
Summary
What You Need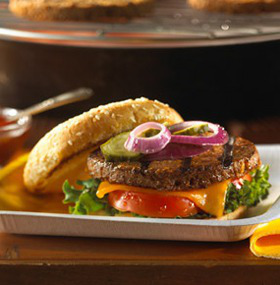 Instructions
COOK MORNINGSTAR FARMS GRILLERS PRIME Veggie burgers according to package directions.
TOP each burger with one slice of cheese, if desired. Let stand for 1 minute to allow cheese to melt.
PLACE one lettuce leaf on each bun bottom.
TOP with burgers, pickles, tomato slices, onion rings and bun tops.
SERVE with ketchup and mustard, if desired.
PREHEAT Grill
USE a food thermometer to be sure patties reach minimum internal temperature of 160°F.
Cooking time (duration)
Total Time:15 min
Number of servings (yield)
2
Category
Dinnertime
Submitted by
Kellogg's®
Ratings & Reviews
The American burger re-done right! in Vegetarian form! Great change to meal dynamic.
Candy O. – 03/14/2014 –