Dinnertime Recipes
Chicken Skewers
Summary
What You Need
1 boneless, skinless chicken breast
1 red onion cut in 5 pieces 1 red bell pepper cubed in 1-inch squares in water
2 button mushrooms cut in half
2 cherry tomatoes - red or yellow
2 tbsp Lea & Perrins® Marinade for Chicken
1 bamboo skewer soaked in water for 30 min. so it won't burn on the grill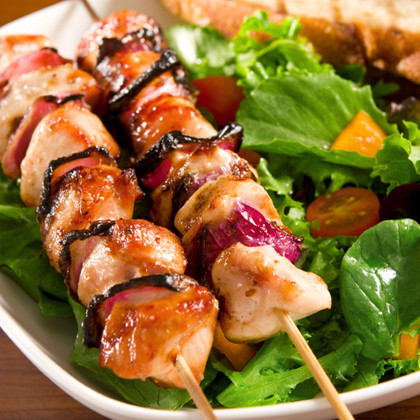 Instructions
Marinate chicken in 2 Tbsp. Lea & Perrins® Marinade for Chicken for 1 hour.
Cut chicken into 1-inch cubes.
Skewer all ingredients in a colorful pattern on the bamboo skewer.
Grill until chicken is cooked – it will appear opaque and be firm when it is done.
Take skewers off the grill and brush them with the Compound Butter while they are hot. Note: If you wish to have a bolder flavor try increasing the amount of Lea & Perrins® product by 1 Tbsp. increments. For compound butter:1/2 stick butter 1 tablespoon Lea & Perrins® Marinade for Chicken 1 teaspoon Dijon mustard. Combine in a food processor - do not chill.
Cooking time (duration)
Prep. Time 5 min Cook Time 6 min
Category
Dinnertime
Related

All Kraft Heinz Recipes
Ratings & Reviews
Be the first to rate & review this recipe!