Dinnertime Recipes
Beer Can Chicken with Miller Lite-Mustard BBQ Sauce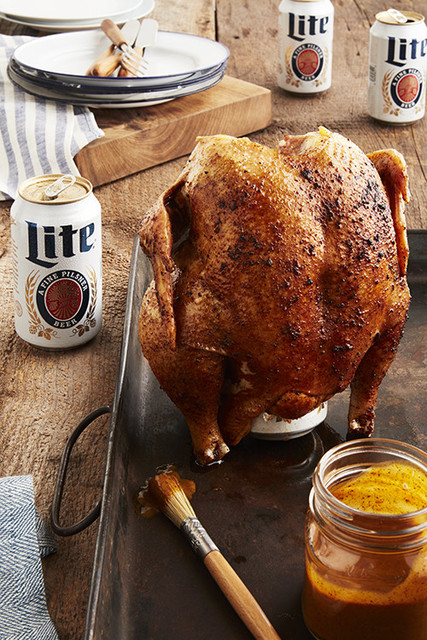 Instructions
Let the chicken come to room temperature and pat it dry all over and inside the cavity.
Meanwhile, combine the sugar, salt, lime zest, and spices in a bowl. Add 1 to 2 teaspoons of Miller Lite, just until it forms a paste. Rub it all over the chicken's skin, gently patting it in to stick, and place it breast side up on a rimmed plate. Refrigerate, uncovered, for at least 30 minutes, but ideally overnight.
Heat half your grill to high (about 450°F). If you have a gas grill, do this by turning half of the burners to high and leaving the rest off; if you have a charcoal grill, pile all the hot coals on one side and leave the other side empty.
Fill a grill pan or cast iron skillet with about ¼-inch of Miller Lite; this will create steam that keeps the chicken extra-moist as it cooks. Drink (or pour into a glass for future enjoyment) the Miller Lite until it's about half full, then prop the chicken on top, legs facing down, so the can fills the cavity and holds the bird upright. Place in the grill pan.
Set the grill pan on the cool part of your grill, cover, and let cook for 30 minutes.
Brush the barbecue sauce evenly over the chicken and carefully rotate it a half-turn in the grill pan so its skin browns deeply and evenly. Re-cover the grill and cook for another 20 minutes. Check for doneness by sticking a meat thermometer in the thickest part of the thigh; it's ready when it reads 165F. If it needs more time, keep it covered and check back every 10 minutes.
Take the grill pan off the grill and let the chicken rest for 10 minutes. Pour the drippings directly over the chicken or into a bowl for serving on the side. Pull out and discard the beer can, carve the chicken and serve.
TIP: By heating up only half the grill and keeping it covered while the chicken is cooking, you are essentially creating an oven, which allows for more even cooking without sacrificing the concentrated, smoky flavors.
Cooking time (duration)
135 minutes
Number of servings (yield)
4-6 servings
Category
Dinnertime
Related

All MillerCoors Recipes
Ratings & Reviews
Be the first to rate & review this recipe!