Dinnertime Recipes
Beef Stroganoff
Summary
Beef Stroganoff made with Heinz HomeStyle Savory Beef Gravy
What You Need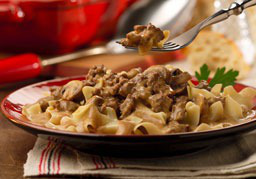 Instructions
In a medium skillet, cook ground beef over medium heat until browned and thoroughly cooked.
Carefully drain liquids and return to stovetop.
Stir in Gravy and mushrooms, and bring to a simmer, stirring occasionally.
Remove from heat and stir in sour cream, until thoroughly combined.
Add salt and pepper, to taste, and serve immediately over hot noodles.
Cooking time (duration)
30 Minutes
Category
Dinnertime
Submitted by
Heinz HomeStyle Gravy
Ratings & Reviews
I made this one a little different, I made it ahead of time and portioned it out and out the bags in the freezer. This worked out perfect for nights we need a grab and heat dinner. And, I added one bag to the crock-pot cooked on low all day and it was amazing!
Bobbi P. – 10/20/2014 –