Dinnertime Recipes
Beef Kabobs with Apricot Glaze
Summary
The contrast between the sweet apricots and the savory beef in this dish is simply mouthwatering. It's the perfect recipe for your next family cookout.
What You Need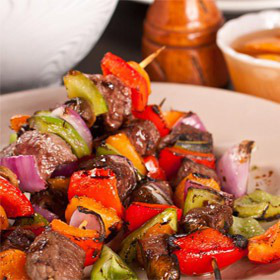 Instructions
DRAIN apricots reserving 1 cup syrup into small saucepan; blend in cornstarch until dissolved. Cook over medium heat, stirring constantly, until thickened. Stir in mustard and basil. Set aside.
THREAD meat, apricots, green pepper and mushrooms alternately onto skewers; brush with apricot syrup mixture.
GRILL kabobs over hot coals (or broil) about 5 minutes on each side or to desired doneness, brushing occasionally with additional syrup mixture.
Cooking time (duration)
Prep: 15 min, Total: 35 min.
Number of servings (yield)
8
Category
Dinnertime
Submitted by
Del Monte
Ratings & Reviews
I made this for dinner last night and everyone in the family loved it! I added some rice and called it a healthy...yummy meal.
Anonymous – 01/23/2014 –
Yummy! And gluten free. I have a gluten allergy and it's sometimes tough to find yummy recipes to please my boys! This one is teenage boy approved! :-)
Alexis R. – 01/26/2014 –