Dinnertime Recipes
BBQ Sauced Pork Sandwich
Summary
What You Need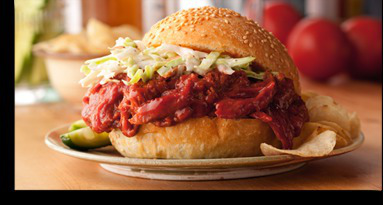 Instructions
Follow Curly's microwave cooking instructions on package.
Remove Curly's cooked tub from your microwave (be careful, it's hot).
Place ample servings of delicious Curly's Pulled Pork BBQ on top of your tasty, sesame seed buns.
Top Curly's BBQ with your favorite serving of cole slaw.
Serve with your favorite sides of chips, pickle or pork-n-beans.
Cooking time (duration)
Cook Time: 15 min
Number of servings (yield)
6 servings
Category
Dinnertime
Submitted by
Curly's®
Ratings & Reviews
We had a tailgate party last weekend and these BBQ sandwiches were a hit. Everyone loved them and asked for my secret recipe...lol...yes they are that good!
Anonymous – 04/15/2014 –